About The Tora Seishin Academy
The Tora Seishin Academy is the life long dream of Karina. Karina has 23 years martial arts experience. The idea for the academy was born in 2006 when Karina and her husband at the time finally felt as if they had the qualities to pass on some of the knowledge they had gained.As she thought more about it the ideas flowed until in her head she had a functional martial arts academy.
Over the next 4 years Karina trained hard in the martial arts with her goal and dream in mind. The dream to open her own martial arts academy became a reality in 2010. Karina decided to put her plans into action and go for it. she felt very strongly about having a strong family influence at the academy and with this in mind she decided the academy would be heavily family orientated, all were welcome, whether training or spectating. She felt this was important because her and her own family had struggled and shared training for years and she wanted to give famillies the opportunity to train learn and enjoy martial arts together. The academy was origionally set up by Karina, alongside her husband at the time. after their separation and subsequent divorce a few years later, Richard left Karate and moved to a different area. At this point Karina became the sole instructor at the club.
The academy was a new and exciting development to Karina's martial arts experience. She believed it would be a success because she had the passion and enthusiasm to make it one. Who doesn't want to do a job they love?
Karina is Enhanced DBS checked. The academy is also a member of the British Combat Association. This association offers extensive support for it's members and the head of this organisation is Peter consterdine an experienced and world renowned martial artist. Karina as the head instructor at the club constantly updates her first aid training as well as attending child protection and safe guarding courses on a regular basis.
The Academy has been a great success in the last 10 years seeing hundreds of students pass through its doors. Many having stayed for the time its been open and have acieved great personal success, learning a lot of life skills and attributes including self dicipline, respect, confidence, perserverence and indomitable spirit. The academy has developed massively over those 10 years and although adults are always welcome, we have a heavy child base of students. Sensei Karina has become very passionate about martial arts for all abilities and welcomes many SEN children and their parents to the academy, believeing in developing ability and concentrating on what can be done not what can't.
In 2015 the club held a seminar inviting Shihan Brian Whatford along with his instructors and students at the club to take the seminar. It was a great success and several more followed. A strong affiliation between the two clubs was born and that continues. Where possible Sensei Karina trains under the expert tuteledge of Shihan Whatford and his excellent instructors. There is great respect between the two clubs and their instructor Sensei Martin regularly attends the academy as a guest instructor for some of the classes. Great Martial arts affilliationa and friendship has grown between the two clubs, both believeing in the attributes martial arts offers as well as good old fashioned hard training. In July 2018 Sensei Karina and her son Rhys were honoured to be invited to grade with Shihan Whatford and his esteeemed panel of instructors. It was a tough day but both Sensei Karina and Rhys were delighted to pass their next Dan grades.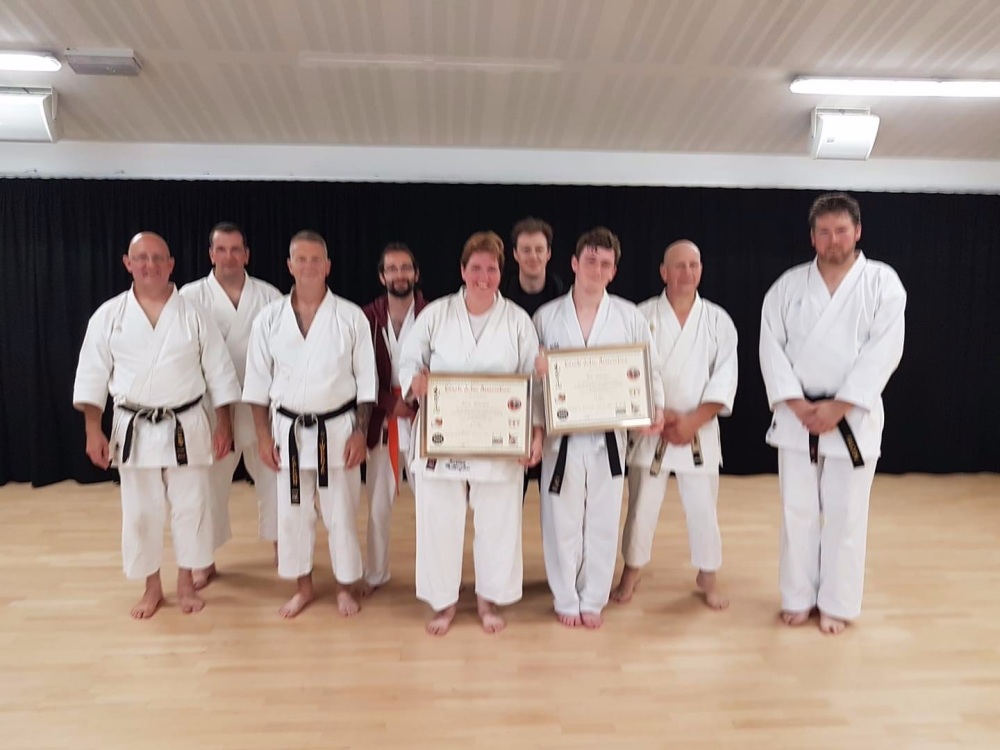 The Tora Seishin Academy holds professional indemnity, public liability, libel and slander insurances.
Come and join us in this exciting journey. If we can do it, you can do it. Martial arts for all abilities.