Instructors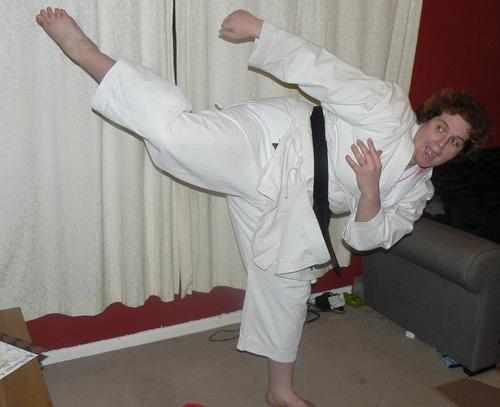 Sensei Karina Whittington
Tai Chi for Health instructor
All through her childhood Karina can remember watching the likes of Bruce Lee, Jean Claude Van Damme, Chuck Norris and Dolph Lungren in awe of their Martial arts skills. Karina could only dream of being able to kick like Van Damme! Or so she thought. At an early child Karina believed these famous talented people had unique skills that only a select few could possess. Although these stars are in a class of their own Karina gradually built up confidence to try out Martial Arts for herself.
Her first experience was at the age of 10 when she joined the local Judo club with her older brother. This was a fantastic experience and she enoyed it so much she was sorry to leave. Personal family circumstances forced Karina to give this up. That was a pinnacle point for her, from that point on she was hooked on Martial Arts.
At the age of 16 was when Karina became a little more independant and started to explore Martial Arts clubs in her area. She tried the local Tae Kwon Do club, Tang soo Do and then at the age of 17 she saw an advert in the local paper for a new Shotokan Karate Club, starting in her local area, little did she know this moment would change her life forever.
Karina attended this class on a Saturday morning at 11 am and began training under Sensei Linden Huckle(4th Dan Shotokan Karate) and was instantly hooked. Karina spent the next 2 years training, grading and living the dream that she was able to learn and perform Martial Arts she once believed was a unique gift. During this 2 years Karina met her husband and fell pregnant with her first son Rhys. At this point Karina took a six month break and once the baby was born she once again returned to training for a further 2 years in this time she attained her 1st kyu(brown belt). The next few years were difficult, due to overwhelming work commitments and family life training had to take a back seat. In 2005 Karina then fell pregnant with her Second son Jacob and at this point she decided to take a break. This break was 18 months long and awful, Karina passion for her Karate had not gone away and she would often still perform katas in her kitchen, whilst kicking off a few cupboard handles along the way! Karina returned to training in 2006 where she attained her intermediate shodan and began training for her black belt. In 2008 Karina had a third son, Elijah and once again returned to her training once the baby was born.

Karina's passion for Martial Arts wasn't just about Karate, although this was now a way of life for her. Karina became interested in various martial arts from 2005 and began exploring some new styles. She showed a little interest in grappling and the ground game, she also became interested in Eskrima and the English Martial Arts. These two arts became such an interest she began to train in them also. In 2009 She met Chris Crudelli famed Martial Artist and tv's presenter of 'Mind, Body and Kick Ass Moves' and 'Kick Ass Miracles' at the Martial Arts festival in Leceister. Karina was so impressed with Chris's attitude towards martial arts that there was no hestitation when he began teaching his new system ' ABC Combat', she was there. Karina now trained several times with Chris Crudelli and thoroughly enjoyed learning new skills and building on her knowledge. In the Summer of 2010 Karina, Richard and Rhys made the difficult decision to leave their current Karate club, Karina and Richard felt they were going in different directions and it was time to move on. Karina, Richard and Rhys started to train under a different instructor. In February 2010 after nearly 14 years training in shotokan Karate, Karina was awarded her 1st Dan(Shodan). This was a great honour after many years of dedication to the art of Karate.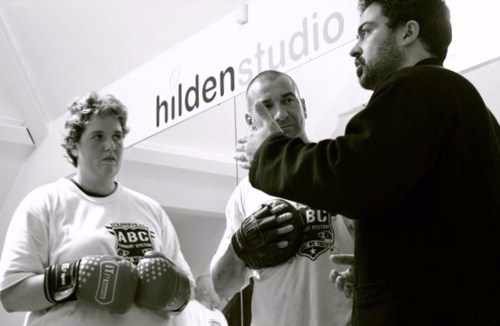 Karina and Richard had dreamt about running there own academy for 6 years. In 2010 they started to make these dreams become a reality. This is where the Tora Seishin Academy was born and the exciting journey ahead began. Since that time the academy has welcomed many students and enjoyed the values of martial arts training. the passion for Karate is still as strong as it was all those years ago at 17 years old, only now its 23 years later and Karina is 40! the body isn't always as willing as it was 23years ago but the mind and passion for the art only gets stronger. We've since affiliatied with ToriKai Karate association in Peterborough and i was honoured to be added to their list of instructors and be asked to sit on their grading panels.
Karate will always remain in Sensei Karina's life, its become a way of life for her and she considers it truly an honour to teach and pass on what has been learnt and still being learnt in this wonderful art.

Sensei Martin Bees
Guest instructor and Friend at Tora Seishin.
3rd Dan Shukokai Karate
1st Dan Shotokan Karate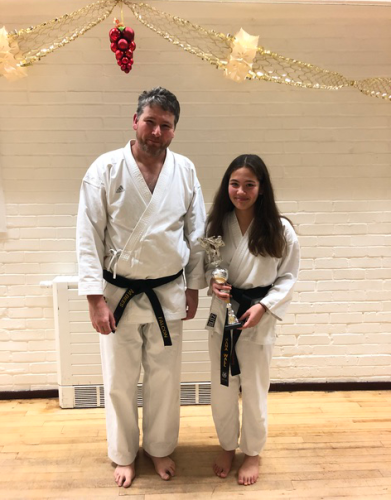 Sensei Martin Bees has a wealth of Martial arts experience having studied Judo, Boxing, Dsi and different styles of Karate. He has many years experience but his passion lays heavily with shukokai Karate, an art he has trained in for over 23 years. He is a valued instructor at ToriKai Karate Association, often giving students lots of his free time to help them achieve and get to their next level. Sensei Martin has become a real asset to our club and freely gives up time to guest instruct at our classes, where he enjoys passing on his knowledge. Sensei Karina and her students really enjoy his fun informative lessons.
Sensei Martin has been a mentor to Sensei Karina and Sensei Rhys helping them both greatly in their training for their last Dan grades. Although Covid 19 has temporarily put a stop to face to face and close contact training, once things return to some normality then Sensei Martin, Sensei Karina and all at ToriKai will resume training together.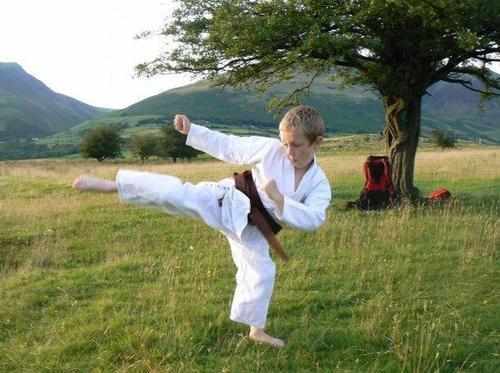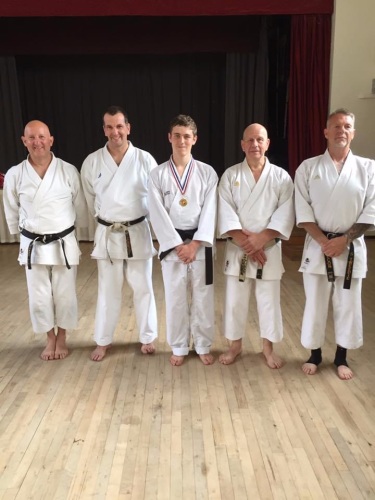 Rhys Whittington
1st Dan Shotokan Karate
Assistant instructor
Rhys began his Karate training at the tender age of 4 years old. He joined his parents in their hobby and it soon became apparent that he had a natural flare for Karate. He trained 3 - 4 times a week and showed commitment and dedication. At the age of 5 Rhys also showed an interest in Tae Kwon Do and pursued this for 6 months. Karate was where his real passion was and after the brief spell at Tae Kwon Do he returned to his Karate training. Rhys spent the next 3 years training with his parents under the expert tuteledge of Linden Huckle (4th dan). In the summer of 2009 he followed his parents in changing clubs and began training under a different instructor. After pure commitment, dedication and spirit Rhys graded to 1st Dan in December 2009 at the age of just 9 years old.
After his Dan grading Rhys remained very committed to Karate and the Tora Seishin Academy. As he grew older he began to mentor more students at the club and 'Rhys's Workshops' run under supervision at the side of classes became very popular with the students. in July 2018 Rhys graded to senior 1st Dan under the instruction and guidance of shihan Brian Whatford, Sensei Martin Bees and the instructors and ToriKai academy (at the time known as the Karate Jutsu association). Rhys has since moved away to pursue his education in Games design at university but regularly asks and hears about the academy. Rhys's time and childhood at the academy helped equip him with the brilliant skills he has now to take forward into a bright future. We hope one day he will pursue his Karate training, when the time is right.